4 Reasons Why You Should Include Video in Your Communications Strategy
It's 2017, and to no one's surprise, video marketing is king. In the world of communication, video advertising is a trend that has exploded in growth, particularly within the last year. According to Wyzowl, a staggering 61% of businesses used video as a marketing tool in 2016, and for 66% of these businesses, video wasn't part of their marketing plan the year before. Video has become a proven tool that should make up up a huge part of your marketing content. Here are some of the reasons why it's is the way to go:
It's what the people want!
YouTube is currently the second-largest video platform in the world, with consumption growing at a rate of 100% every year. Mobile video is dominating, with mobile video views rising by 400% from 2012-2014, according to DreamGrow. To meet this demand, social platforms are focused on developing technology that's fun and engaging for this type of content with features such as filters on Snapchat and Instagram stories, and live video on Facebook and Instagram.
Better conversions, better ROI
Conversion rates are exponentially higher with video advertising. It's a form of marketing that can lead directly to sales – in fact, DreamGrow reports an average conversion rate of 80%! The return on investment makes video worth the cost.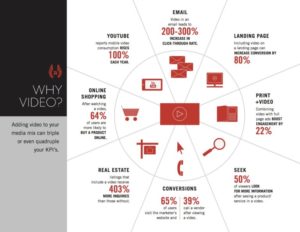 Let the video do the talking
If you're launching a new business, service, or product, video is key in sharing your message. In fact, 98% of users watch video to learn more about how a product works, according to DreamGrow. For example, we worked with SOREL to help them grow into a new category. Previously known primarily as a winter boot brand, we broke into the competitive fall fashion space with a series of tutorial videos that taught fans how to style their SOREL's for back to school, leading to increased brand awareness and (best of all), sales.
Boost video, boost it all
Video advertising can help boost engagement with other non-video content. Including video content can lead to a 200-300% increase in click through rates (CTR), and is more likely to be shared, liked, and commented on than any other type of social post (for more information on the benefits of including a social strategy, click here). Plus, Google loves video and shows no signs of breaking up with this type of content. Embedding video on your website makes it 53 (that's right – 53!) times more likely to show up in a simple Google search.
What to do now
Video marketing is becoming increasingly more effective and engaging as our technology capabilities develop. This makes video one of the most effective forms of content we can use to generate awareness, sales, and management. Curious to learn more about what video can do for your marketing and communications strategy? Reach out to us and our video team will be happy to chat!