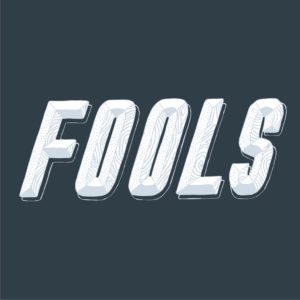 If you've lived a little, you've probably been called a fool at one time or another. Perhaps it was deserved – maybe it wasn't. But, what does that really mean, anyway? When examined closely, the descriptor "fool" is a tricky beast. Because (like many things) it's a fluid label. It's subjective, depending on your perspective and set of beliefs.
For example, one may be called a fool for taking a big chance – but calculated risks can open doors to new life experiences and opportunities. One could be called a fool for having a different viewpoint than another, one could be foolish and commit a lawless act, or one could be silly and enjoy fooling people with a rich array of pranks and jokes.
So in honor of the first day of the month, April Fools Day, we're diving into the theme of Fools all month long. Stay tuned as we explore what the word means to us and why it's something worth celebrating!
Written by R\West Social Media Copywriter, Sara Burke
Lettering by R\West Graphic Designer, Hailey Skye Dehler