FOOLS \\ A Subjective Analysis of the 4 Best Fool-Adjacent Tracks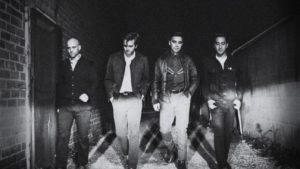 Fool for Love – Lord Huron (2015)
If this song doesn't make you want to ride a bike, I honestly don't know what will. 
Since I'm sure you're looking to experience this one in the setting which I believe it was intended, please allow me to present three equally delightful options:
in the back of a camper parked in Montana

in a garage where you've also been building bird houses all summer

in a canoe with a dog wearing a bandana
Foolish – Ashanti (2002)
This is a truly timeless selection that goes as hard as it did when it was released 16 years ago—though I'm in absolute denial that it's actually been that long. Even then—as I was reading at a 4th grade level, having never so much as cared about a boy— it resonated so deeply with my innermost being that I found myself unable to listen without singing (read: wailing) every line.
This song was released as Ashanti's debut single, FYI. The fact that she samples B.I.G is only part of why I'll personally request that this one be played at my funeral. Post mortem, I'd like you to know that I would follow Ashanti into hell, and this absolute slap is just one of several reasons* why.
*she dumped Nelly
* how extra they made the video for this song (Terrence Howard, anyone??)
*her role in John Tucker Must Die
*etc

The Fool – Gus Dapperton (2017)
Before we get into the song, can we take a moment to appreciate Gus? The prodigal son of the bowl cut. The physical embodiment of a thrift store. He who brings new (and more palatable) significance to Gen Z Yellow.
He's graced us with a jam that's pretty much an otherworldly Mac Demarco-Tame Impala amalgamation, were we to halve the number of smoked cigarettes and dial back the synth. This is the kind of song that makes you want to wear striped socks. If it was a human it would spend its days leaned back into a well-worn sofa on the porch of a punk house, giving its friends stick and poke tattoos.
Roasts aside, it's grade A easy listening with just enough mood to conjure remnants of your romantically fueled —and no doubt lingering— teenage angst.
Chain of Fools – Aretha Franklin (1967)
Is an explanation even necessary here? This song is an infinitesimal fraction of Aretha's contribution to music (and the world as we know it) but it, like so many of the other jewels in her luminescent crown, possesses a unifying power that is honestly unmatched. 
If her voice and this rhythm aren't enough, consider for a moment the fact that Aretha has earned honorary degrees from Harvard, Princeton, and Yale, among others. There is a reason she's a hall of famer, people.
I've also found very few (if any) situations that are not immediately bettered by her music. Deep cleaning your bathroom on a Saturday? Early evening backyard garden party? 2 and a half hours into a 6-hour road trip? Yeah. That's what I thought.
Honorable Mentions
Description of a Fool – Tribe Called Quest (1990)
Like a Fool – Superchunk (1994)
fOoL fOr YoU – ZAYN (2016)
Only a Fool Would Say That –Steely Dan (1972)
Here's a playlist if you're into that kind of thing.
Written by R\West Media Speicialist Gabryella Christenson