The first concert that I purchased tickets for was Alanis Morrisette at the Salem Armory in 1993. I went with my best friend JJ and my dad who tagged along as chaperone (I even paid for his ticket so he would let me go!). We were too timid to join the crowd at the stage in their aggressive mosh pit, but it was electrifying to be in the same room as an artist who had tapped into my teenage angst in a way that I had yet to really understand. The spark that Alanis set afire in me that day has yet to be extinguished.
I cannot count on my fingers and toes how many concerts I've been to since then. From Fiona Apple (RIP La Luna) to Lizzo (THREE times last year alone!) to a surprise John Mayer performance at my favorite LA venue (Hi Hotel Café), I never miss a chance to see live music. And it's not just rock/pop. My parents are avid jazz fans and because of them I have seen the Manhattan Transfer play in a beautiful garden and was introduced to the phenomenal (and phenomenally stylish) Cecile McLorin Savant last year. So, when someone asks me, "What's hot?" my first and only response is live music.
Being in a crowd of people coming together to experience the drive, dedication, artistry and passion of a musician is the best high. Letting the music envelope me in its emotion and rhythm is when I feel most at peace and most myself. While I can be timid about sharing my favorite music with others for fear of judgement, standing in front of a stage or sitting in a stadium with other fans I have no such fears. We are all there for the same reason. To escape into the music and let go of the outside world for a couple of hours.
I'm going to go ahead and assume that this is a safe space and though I know there are people out there who will disagree, one of the best shows that I saw last year was Coldplay at the Moda Center here in Portland. Though they are not my favorite band, they are inextricably linked to a very happy time in my life (their first album came out while I was studying abroad in London) and therefore I will always have a soft spot for them. However, their concert is one of my favorites for a different reason. The day of their concert was the day after the Las Vegas shooting at a concert. The day that Tom Petty died. The day that I was fired from my job. In other words, it was not a very good day. And if I'm being honest, attending a concert the day after a mass shooting at a different music event was a little bit scary. But, it also felt important to not let one crazy man ruin my greatest pleasure. Their music is a little cheesy, but all I wanted that day was to feel good and be surrounded by other people who just wanted to feel good. And also confetti. I wanted to watch colorful confetti dropping all around me. Coldplay delivered in spades and for a few hours, I was ok.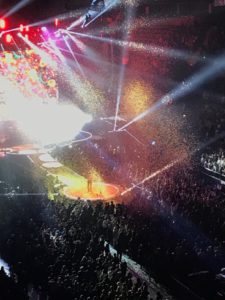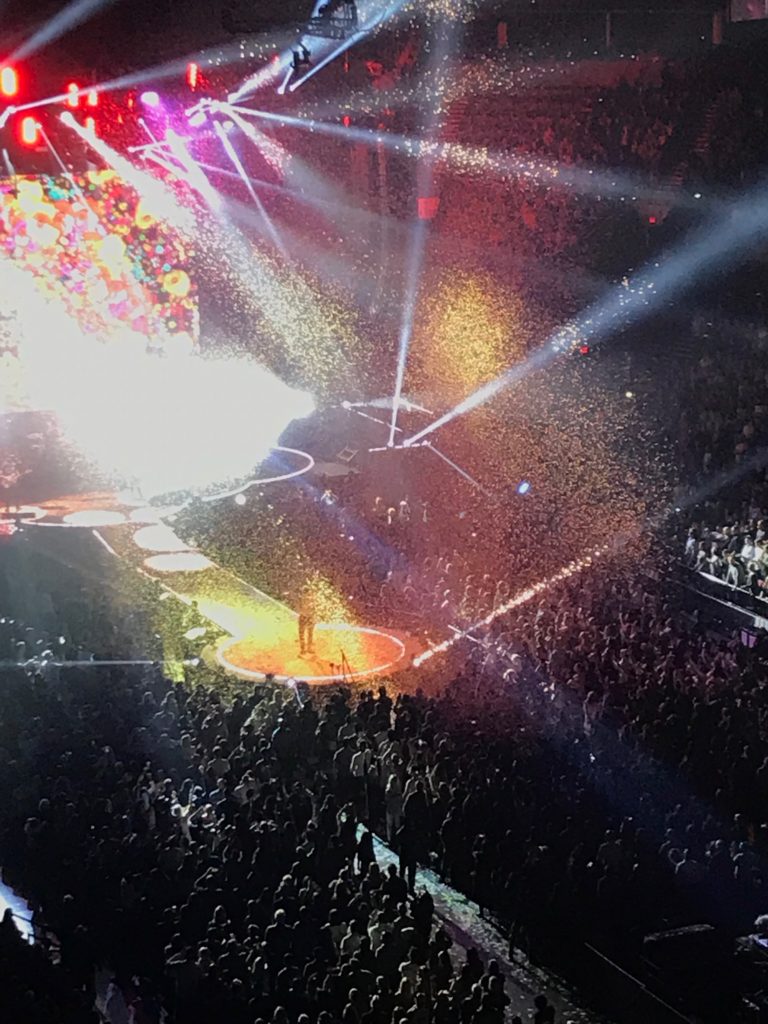 This summer I have already seen Janelle Monae rock Edgefield with an honesty I have never experienced before, I'll be seeing St. Vincent, Lizzo (2nd time this year!) and Florence and the Machine when they're in town (WHAT A LINEUP) and if all goes according to plan I'll be seeing one of my teenage idols, Liz Phair, at Crystal Ballroom in September. But the shows I'm really looking forward to are the ones I don't even know are coming yet. The local artists in the dive bars who grab me by the ears and don't let go. The shows I get invited to at the last minute. The unexpected moments of live music walking down the street. Whatever show I'm at, whatever music I'm listening to, I have no doubt that there will be at least one moment that stops my heart and has me whispering "That's hot".