PASSION \\ Man's Best Friend
I've always been a friend of animals. I love them all. When I was growing up, I was fortunate enough to be surrounded by all types – dogs, cats, horses, cows, gerbils, even ferrets. The list goes on and on.
Naturally, the woman that I married, Jenny, shared the same feelings. She told me that one of her favorite animals was a Corgi and at the time I didn't know much about the breed, except that they're known as the the Queen's dogs.
Then, while I was in college, I had the opportunity to dog-sit a Corgi. It was the perfect chance to 'try before you buy'. My friend Devon was going out of town for the first time since she got her Corgi and was originally planning to keep her at a local pet hotel while on vacation. But I told her that she should save her money and just let me and Jenny watch Adia (the Corgi). We absolutely fell in love with her and I finally understood why they were one of Jenny's favorite dogs. It was hard to give her back to Devon when the vacation was over, and unfortunately with me being in college at the time, we couldn't afford to get a dog. But I made Jenny a promise – once I graduated and had a job, I would get her a Corgi.
Fast forward two years. I finally graduated on December 19, and on December 27 we were at the mall for something or other, I think Jenny was returning something. I didn't need to be in the store with her, so I decided to go a couple stores down to the Hannah Pet Society to check out the puppies. I asked them, with very little hope, if they had any Corgis. To my surprise they did, and I rushed back to tell Jenny. At first, she didn't want to go look because it was still questionable if we could even afford to get a dog. But I convinced her to at least have a look and they took us to a room to meet the Corgi. Right when they brought her in, my heart melted. I immediately fell in love. We had to get this dog.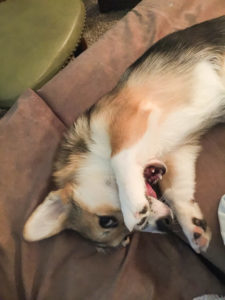 Well the Gods were shining upon us – one day later we were taking Kuzuri home. Ever since that day our lives have been based around Kuzuri and I would not have it any other way. She's the most loving, caring dog that I have ever met and brings joy to anyone's life who she comes in contact with.
Kuzuri's well-being and happiness is one of my passions in life and I feel blessed to be in hers.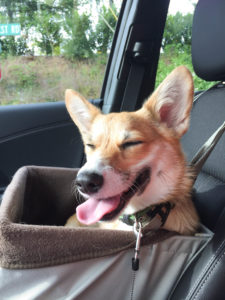 Written by R\West Interactive Developer, Kyle Riemensnider