PASSION \\ The Comeback of the Soap Opera?
In 1999, I was a Senior in High School and admittedly had a bit too much time on my hands.
My shifts at the local 50's diner usually started around 4pm, where I rocked a bow tie and made constant change so that families could put a never ending run of quarters in the jukebox to play Rockin' Robin for hours and hours  (That song still haunts me by the way – Tweet-tweet-tweet).
Since I had a bit of time between sleeping in, reading my Delias catalog and putting on my blue eyeshadow before work, I discovered a new midday form of entertainment; The brand new soap opera Passions launched that July.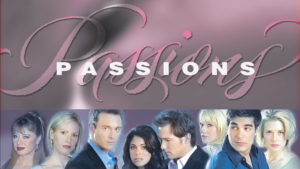 At 2:00, I transported from Eugene, OR to the fictitious setting of Harmony, a town complete with your standard daytime drama and a few…well, unexpected deviations from the typical soap opera narrative. For nearly 10 years, we were introduced to storylines involving an orangutan nurse name Precious, a talking doll who drank martinis and only spoke in third person, and our leading lady, Sheridan Crane, who is still haunted by the untimely death of her BFF. You may have heard of her, Princess Diana?
Daytime soaps have always been known for extreme storylines, overly dramatic dialogues and those loooong awkward pauses, but when Passions hit the screen in the late 90's, it was a whole new kind of awfulsome (That's a mix between awful and awesome, obviously).
I continued to tune in from my dorm room and college digs occasionally until life got in the way and watching mid day soaps while lounging in my juicy tracksuits were a thing of the past.
But while my time in Harmony was relatively short, I can safely say that my time with soaps was not.
Like any other genre, soap opera popularity has ebbed and flowed over the decades but starting with Dallas in the early 80s, they made their way from daytime fodder to prime time must see TV. But what makes a soap opera a soap opera?
Defining traits include:
Large amount of characters who tend to enter and exit with storyline crossover

*

Heightened emotion, often to the point of satire

Extreme situations and a tendency for over the top acting + plotlines
Optional: Sometimes with the same characters entering and exiting due to amnesia, faked deaths and separated and birth twins
The good news is that even if you haven't turned on Days of Our Lives recently to see whether or not Marlena is possessed again (She's not, I checked), you still have plenty of opportunity to view some contemporary soaps. Let's just say if you're a fan of big-build-up-make-out scenes, dramatic murderous twists and generation spanning family feuds, this is a pretty good time to be tuning into TV.
Let's take a look at some top soaps to hit the small screen in the past few years:
Greys Anatomy: Another famous daytime soap was centered around a hospital and even after 14 seasons, Greys offers no shortage of implausible plot twists. Bonus? The large cast helps keep the show afloat when certain actors get fired for being prima donnas off screen or releasing nude videos
Game of Thrones: This HBO powerhouse, currently filming its 8th season, is one that really legitimizes the genre. While it fits the bill with the large ensemble cast and elaborate drama, GOTs storylines don't have the cheese factor that viewers currently liken to soaps. And that ability to show a variance is certainly good for the future of the genre.
Downton Abby: With stately sets and epic period costumes, Downton takes the drama of early Gossip Girl, overlays it with Pride & Prejudice and TaDa! A Soap Opera…. On PBS.
Riverdale: This Archie comic inspired teenage soap airing on the CW is what "all the kids are watching" according to a very reliable source. My sister, who happens to teach High School.
There are still plenty of other highly rated dramas, comedies and reality shows on TV right now that don't fall into this category, so what place do soaps have in today's era of TV? A pretty important one if you ask me.
In the days of DVR and streaming, where live viewing is the gold star in today's media landscape,  these new soaps can be the answer to a network's (and advertiser's) prayers. Shows that follow these genre defining trends lead to unrivaled drama and water cooler talk. And of course, that means a higher propensity to live viewing and social co-viewing which leads to ample opportunities for sponsor integration and social extensions .
The raving teenage fan base of Riverdale might not be buying household soap but they are certainly connecting with brands that can create an authentic presence within the programs and with the content and characters surrounding it. In fact, Cover Girl and Riverdale have created a unique partnership with vignette style, stop motion spots airing during the show and in online content surrounding it. These spots show the actresses transforming into their characters, highlighting the Cover Girl products they are using. Because the fans are so loyal to these programs and the talent within them, they are consuming insane amounts of content surrounding the show, leading to plenty of opportunity for unique partnership integrations.
Unfortunately for us and for Passions Fans, it went off the air in 2008. So we don't get to see Brockmans Gin sponsor Timmy the living doll's daily martini or Samsung product placement in the flashbacks of phone calls between Sheridan and Di. But the daytime soaps (even the really bad ones) have set up our TV watching society to appreciate and thrive on the drama they created, setting up a pretty entertaining new golden age of TV.
Written by R\West Director of Media, Danielle Perez