POSSIBILITY \\ I was born in April but my name is May
That's right, you read that correctly. Are you scratching your head, asking yourself why? My answer to you is because anything is possible.
You know what else is possible?
The American Dream.
You heard me.
No, I'm not crazy.
Don't believe me?
Here's an example: this is a story about a young girl from New York City, specifically the Boogie Down Bronx. She grew up poor, with all the odds stacked against her and yet, she was determined and worked her a$$ off to achieve a level of success many do not. With her "no filter attitude", she rose up from being a stripper to solidifying her Instagram fame to becoming a chart-topping, record-breaking female rapper. And she did it her way.
Her name is Belcalis Almanzar, aka Cardi B, aka Bartier Cardi.     

To me, she represents:
Female Empowerment

The Struggle

Authenticity

Hard Work

And most importantly, Possibility
She reminds me that the American Dream is still possible, no matter how untraditional or impossible it may seem. So, in celebration of the month of May, my namesake, I dedicate this post about possibility to the one and only – Cardi B, who is possibly living her best life.
Okurrrrr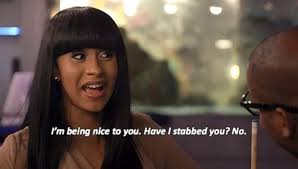 Written by R\West Director of Media, NY, May Rodriguez