The Future of Drones in the Enterprise
This week, R\West had the chance to attend the "Evolve with DJI" launch event in Menlo Park, California, with our client FLIR Systems.  We were there to learn how advances in low-elevation drone technology are changing the game for a disparate group of industries from agriculture to public safety.
DJI kicked things off with the announcement of the Zenmuse XT2, through FLIR's "Thermal by FLIR" program—DJI's first dual-sensor payload and its most advanced gimbal-stabilized camera for commercial drone applications. The drone camera includes both a high-definition 4K video camera and a high-resolution radiometric thermal camera, enabling drone operators to switch between thermal and visible cameras in flight, display picture-in-picture, or use a combination of the two.
The highlight of the event came from the event' hosts, Menlo Park Fire Department, which dramatically demonstrated how the dual-sensor thermal and visible gimbal can improve outcomes for search and rescue in a structure fire. With the ability to see through smoke via the Zenmuse XT2, the drone pilot was able to locate victims trapped inside a simulated "burning" building and assess the fire from multiple vantage points in both visible and thermal light. This new tool in a fire department's arsenal will empower the firefighters on the scene to act more quickly and precisely to save lives.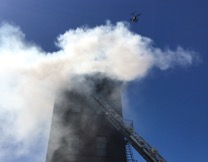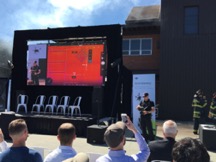 With thermal imaging's ability to see through smoke, fog, haze and at night, we also learned of other promising examples of the value of thermal and drones for agriculture, geo-mapping, facilities maintenance and anti-poaching efforts. The Zenmuse XT2 can be used to assess irrigation efficiency across vast stretches of farmland, or enable park rangers in Kenya to quickly locate poachers hiding in tall grass under the cover of total darkness.
FLIR also introduced a prototype detection sensor for DJI drones through its Payload Software Development Kit (PSDK) that will enable developers to introduce new hardware that's compatible with the DJI airframe setup and software configuration. This first-of-its-kind sensor platform will enable operators to conduct accurate chemical detection assessments at a safe distance, potentially eliminating the need to place personnel in harm's way.
It's clear that FLIR and DJI have just begun to scratch the surface on the potential of new sensing applications for drones, and we're excited to show and tell how commercial and enterprise drone technology is evolving to solve complex industrial and environmental problems.
The sky's the limit.
Written By PR Account Supervisor, Keith Metz-Porozni