RESOLUTION \\ Web Design: Resolve to Design for All
Long are the days over of designing a website for a single desktop screen. Technology and mobile first use are pushing teams to be intentional and thoughtful about how content, information, and design displayed on various devices, screen sizes, resolution, and the viewports. If we designed and developed every version of a website that worked for every known device, the process would be lengthy, painful, expensive, and nearly impossible to maintain. So, what is the right approach for a website and its audience? Design for all with Responsive Design — practical and future-proof.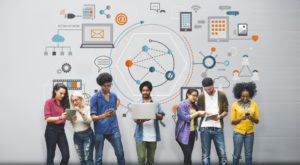 Why should we care?
For any team responsible for the user's experience, the baseline goal is to seamlessly deliver content and information across different devices and platforms in a way that is the best experience for the user.
Approximately 50.02% global traffic on the web is now from mobile devices, 45.68% Desktop, and 4.3% tablet, this data make it essential for anyone's business that has an online presence to consider varying web browsers and all of the different ways users can be accessing the information and how it is rendered and displayed.
So then what now?
Considering that there are hundreds of devices out in the wild, and model sizes and screen resolutions change all the time. There is no "standard website size."
Data & analytics can show what browsers and web page sizes are most popular for a site. So with endless combinations of browser sizes screen resolutions and devices, how do we go on the right journey of designing and building a website for all?
How is it done?
Content prioritization is the first step in a user-centric approach to responsive design. Collaborative effort among the team to work to divide up the web content into core elements. To prioritize, ask, "What do the customers need on a smartphone? Tablet? Desktop? How will they use each device to access information?"
The content the audience needs for the most basic, the user experience is delivered on a mobile device. With each bigger screen (i.e., resolution), introducing more content.
Resolve to take the approach that the most important content is based on the context of each device, from the perspective of the user.  Responsive design is no longer a UX-only discipline, but something all marketers, clients, interactive teams have to commit to understanding and implement in strategic planning.
Written by R/West Senior Interactive Producer, Christa Arriaga-Volker