BONNE MAMAN
Venerable French brand interpreted for the US
How do you grow market share for a widely distributed product in a flat category?
Services
Brand Strategy
Creative
Public Relations
Influencer
Digital Experience
Social Media
Paid Media
Content Creation
Given the flat market, new jam consumers come mostly through brand switching. Add Bonne Maman's low unaided brand awareness, especially among younger consumers, and it was clear that our strategy needed to be smart, creative and incredibly efficient to change hearts and minds. To start, we refreshed the brand visually to appeal to younger, female foodies under the new Made simply, with Love brand position. We launched their first US social channels and built a loyal following that outperforms all of their top competitors by a wide margin.
As a result of our integrated marketing campaign and retailer support, Bonne Maman sales have increased in the double digits, year over year, for the five years since we kicked off with them, in an otherwise flat market.
Influencers Spread the Love
Social audiences LOVE food content and top digital food influencers LOVE Bonne Maman. We've created unique experiences for Bonne Maman from curated trips to Paris, France to driving traffic and sales for new-to-market seasonal flavors. We work with micro and macro digital influencers who genuinely love and use the product ensuring each campaign is authentic and personalized to reach our seasonal KPIs.
To amplify the brand, we look for opportunities to partner with both like minded brands such as Le Creuset, MaraNatha Nut Butters and Bigelow Tea and less traditional plays, such as activating on PB&J day with the Brooklyn Nets. Partnerships have included co-branded photo and video shoots, recipe development, national sweepstakes, social giveaways, ecommerce  and retail programs.
Capturing Media Attention
Sometimes being familiar can be tough. Bonne Maman was well regarded and recognized, but media weren't compelled to feature the brand in the age of niche craft and artisanal US products. We developed a strategic PR plan that highlighted the brand's heritage, pure ingredients and premium offerings, resulting in coverage in top national and regional publications from Bon Appétit to the Today Show. 2021 impressions alone broke the 2 billion mark.
Starting with a small run of advent calendars in 2017, we've developed unique packaging for Bonne Maman that drives trial, awareness, press and significant sales in ECOMM. The unique forms and flavors have opened additional opportunities in retail outlets. The advent calendar sells out annually despite a massive increase in units and garners big hits in prime editorial outlets every season.
To launch the brand's first product line outside preserves, we did a strategic deep dive into the crowded category. Bonne Maman's thoughtfully blended herbal teas, created by a French master blender, set them apart. To visually illustrate this, we created a curated set of tea moments for each blend.
Our hardworking PR team leveraged their connections to get a stellar hit in the venerable NY Times immediately after launch. Read it here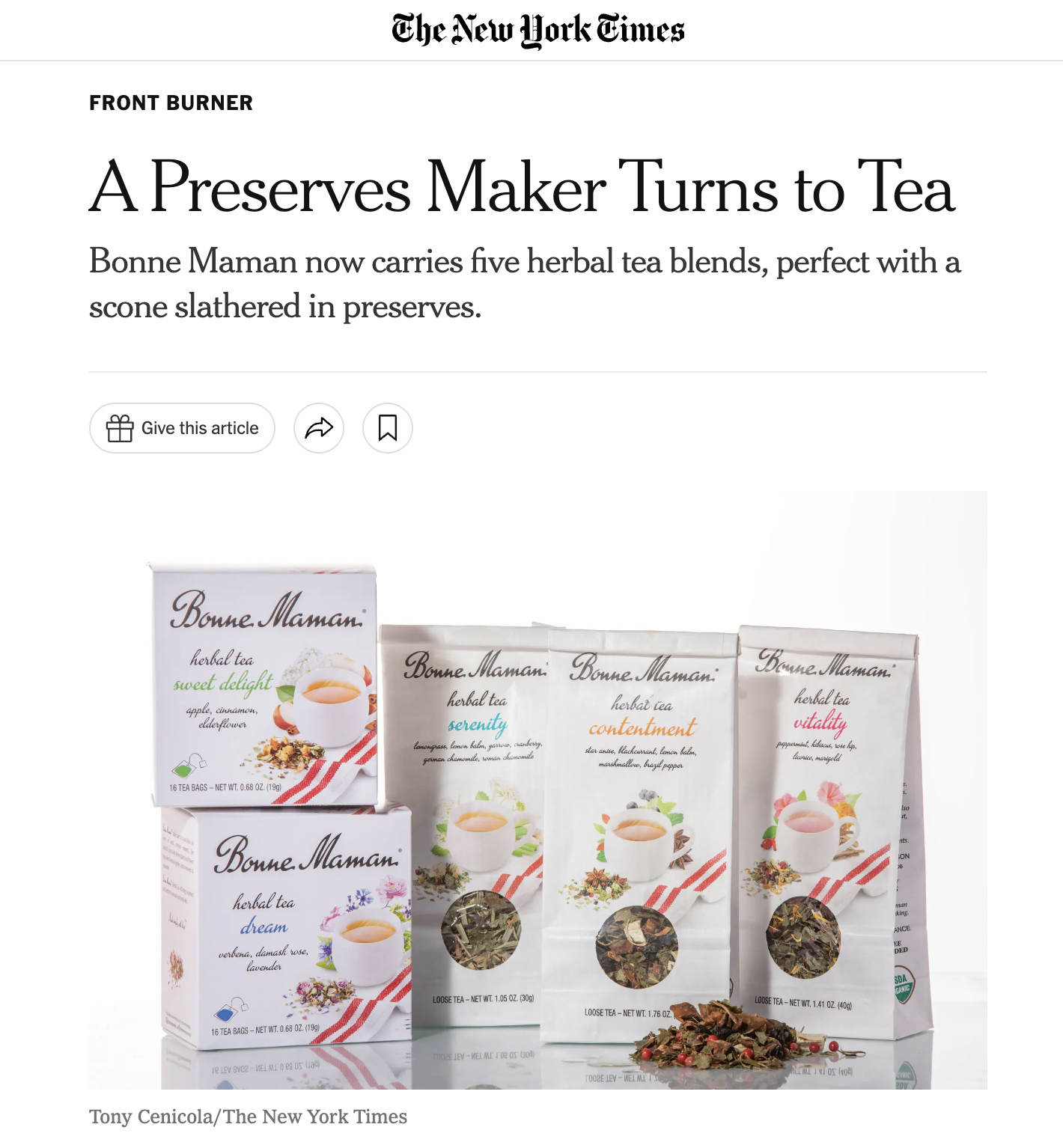 Recipe videos are powerful social content. They attract attention and saves. Each season, we serve up a handful of trend-informed videos starring Bonne Maman preserves for at home cooks hungry for inspiration.